This vintage CPR Training Manikin comes with lungs, a stomach, and really realistic teeth and tongue. This male manikin is the younger brother to the original "Resusci Anne" created by soft plastics expert, Asmund Laerdal, and anaesthesiologist, Bjorn Lind. Since the launch of Resusci Anne in 1960, it is estimated that 300 million people worldwide have been trained in CPR on Resusci Anne, thousands of healthcare specialists have acquired many of their clinical skills through her successors: SimMan, Nursing Anne, SimMom, SimBaby and SimNewB, to name but a few.[1]
(Source Image URL from The Virtual EMS Museum)
Most people are unaware that Anne's face was inspired by a death mask reputed to be the face of an unidentified young woman found drowned in the River Seine, Paris in the mid 19th Century.[1]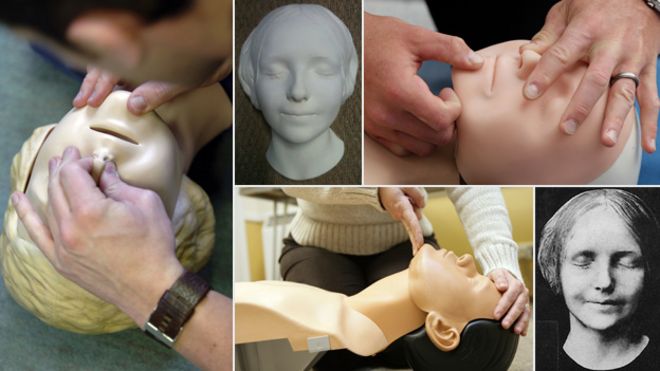 (Source Image URL from BBC News)
She is considered to be the "most kissed" face of all time.